Positive leadership in a time of crisis
2020-04-22
Today, more than any other time in recent history, it is time for leaders of organisations and businesses of all sizes to lead with positivity. I have seen a range of reactions to the COVID-19 pandemic and specifically the announcement of South Africa's 21 day lock down. These varied from what I consider to be totally reactive and knee-jerk measures to protect shareholder profits, to balanced, considered responses which focus on all stakeholders, and critically, the people of the organisation.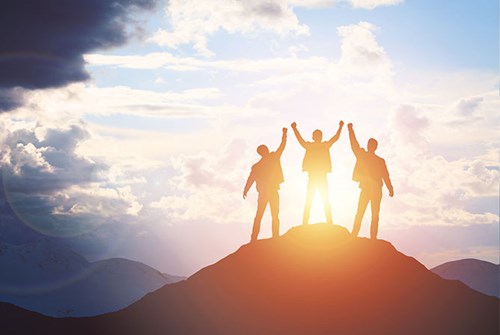 The 21 day lockdown is only part of the story. Whether or not the lockdown gets extended, and in what form, the reality is that we will not return to "normal" in a matter of days. So it is even more critical that business leaders think very carefully about their response to this crisis, and where possible, position their business to continue to operate in some form.
I share here a few examples that resonated with me. No technical information, no comprehensive analysis or advice. But I hope the stories will inspire some leaders out there to take a proactive and positive approach to navigating the current landscape.
People First
A friend of mine works for a Chinese-owned company. When the national lock-down was announced, the company almost immediately communicated to their entire SA team that everyone would get paid 1.5 times their monthly salary for March, in case they needed additional funds to help them through this. They set up (flexible) work from home arrangements to keep the administrative team functioning, but had to close their production facilities. They arranged for additional security for their premises and equipment. In a message to all their staff, they stated "provided that our team is strong and healthy, and our assets are safe, we can rebuild once this is all over."
Sure, not all businesses can afford to pay their staff 1.5 times their normal salaries, and many are simply fighting for survival. But there are other ways to put your people first.
It warmed my heart to see how some PKF South Africa member firms responded swiftly and decisively, by investing in additional infrastructure in a matter of days in order to facilitate remote working. Many have implemented innovative measures to keep their teams connected, cohesive and to retain their individual firm cultures. They have stepped up their communications, have virtual mentorship meetings, "water cooler" conversations amongst teams… One great example is a firm who hosts Wednesday Workouts (online fitness sessions) open to all employees, while they also host Friday after-work drinks via Zoom!
The PKF South Africa central team is used to working remotely. We all travel, are based in different cities around South Africa and regularly work from home or from the road. So the "how" was relatively easy for us. But in this time of lockdown, they have their children at home, have responsibilities to their families and their own wellbeing. We've had to recognise that there is a need for flexibility, for patience and tolerance.
In a country already ravaged by high unemployment and economic inequality, it is critical that businesses do everything in their power to keep their people employed. We have seen great examples of executives giving up their pay in order to keep their people employed and their businesses resilient.
By contrast, I have spoken to many people who work for companies who immediately put them on short time, enforced unpaid leave arrangements, dismissed some people. Even professional services firms who made very little attempt to get their people equipped to work from home. This is not going to be over after the 21 day lockdown. If your business is such that some work can be done remotely, you need to act now to facilitate this.
This is a time for leaders to project confidence, and act decisively but with caution. It is a time for tolerance, to understand that people are scared and will behave differently. Put yourself in others' shoes to help you understand their actions. If you inspire loyalty and retain healthy teams, you can rebuild when this is all over.
Author:
Theo Vermaak
Chairman, PKF South Africa