The curves of COVID-19
2020-04-15
Learning through lockdown and beyond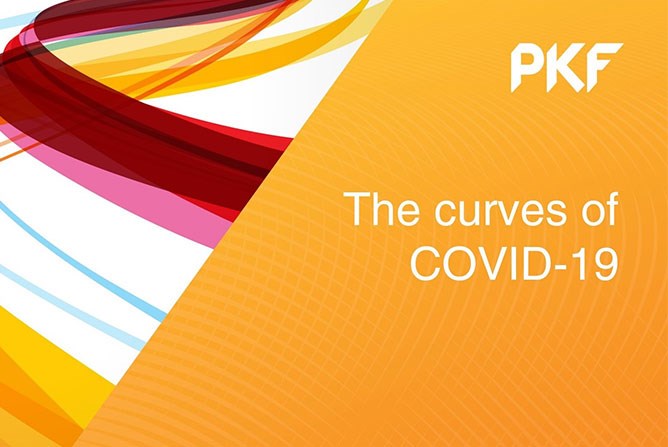 As South Africa and so many countries continue to implement measures to try flatten the curve of COVID-19, we find ourselves climbing a curve of another kind – a learning curve - in a world which didn't plot pandemic on its 2020 plan, yet the navigation of which has now become the mission of every entity, businessman and individual. In this day-to-day classroom, we've set sail on a course of learning, of development of muscles we didn't know we had or needed, of rough seas we didn't know we'd steer. In these unchartered waters, there is no compass, no map, no google how-to guide…even Siri doesn't have the answer to this one. The world as we know it has changed. Paul Graham once said, "when experts are wrong, it's often because they're experts on an earlier version of the world". This highlights the need, now more than ever, to gather our crew (virtually, of course) and collaborate, share and grow – in knowledge, skills, information and attitude – to keep up to speed and stay afloat, absorbing and evolving, rowing the boat forward together to not only weather the storm but also anticipate new business models and innovations on the other side.
COLLABORATE:
Time Magazine has stated that the Coronavirus outbreak has become the world's largest work-from-home experiment. This shift in the way people accomplish daily activities and do business necessitates the technology and infrastructure for such.
In the move from office to online, corporate to cloud, meeting physically to meeting digitally, some of the considerations regarding technology, infrastructure and using virtual platforms include:
Bandwidth, VPN infrastructure, authentication and access control mechanisms
IT security tools and measures
Providing laptops (or desktops relocated to home workspaces if necessary) and data, to enable remote working
Emphasis on tools that are user-friendly, rather than complex - opt for those which are simple and straight-forward, aligned to the level of users and their needs
Virtual meetings can be held via Microsoft Teams, Skype for Business and Zoom, which provide video (make sure you're not in your pyjamas!) and screensharing functionalities
Keep in mind different etiquette that might be required for such virtual meetings (vs face-to-face)
Online platforms for accessing and saving work related content and backups (SharePoint, OneDrive, Cloud etc)
Microsoft Teams channels, WhatsApp groups and virtual check-in sessions for colleagues to connect on current tasks and projects, assess guidance required and monitor work completed and in progress
Project management tools such as Kanbanflow, Teamwork Projects, Asana
Previously planned physical events/conferences can be re-scheduled and arranged as online programmes where possible
At PKF SA we have a strong technology infrastructure in place to work remotely, support business continuity and keep business and collaboration in motion. As a global network, with connectivity and collaboration, PKF is around the corner and around the world.
SHARE:
During this time of self-isolation and remote working, emotional intelligence is imperative in mobilising and motivating your staff and teams. Communicate and stay in touch with your crew. Engage everyone, ask for feedback, and learn as an organisation.
Humans are social creatures who need interaction. Just because we are practising social distancing doesn't mean we have to be socially disconnected.
Cultivate and emphasize sufficient connection amongst colleagues. Some ideas (which our PKF SA member firms have been adopting...who said auditors can't be creative!):
Regular email updates (on what's coming up each week, reminders, team check-ins, birthdays, latest Covid-19 statistics)
Regular communications from HR on remote working, lockdown stories such as sharing snapshots of home office spaces and happenings
Virtual workouts, yoga and exercise sessions
WhatsApp groups sharing non work-related news and activities
Virtual coffee with mentors, and online water cooler sessions
Social events via Zoom, such as crazy-hat Friday drinks (and the screenshot collage of everyone's video image to capture the occasion!)
Surprise celebrations on Microsoft Teams for successful examination results
A greater sense of connection provides opportunity to maintain and strengthen a positive and collaborative culture and inspire perseverance in uncertainty. According to Friedrich Nietzsche, "He who has a why to live for can bear almost any how".
Communication is not only important within the organisation, but also with all stakeholders. Website, social media channels and newsletters can be used to share regular updates and deliver applicable and sound support.
In times of Covid-19, along with emphasizing physical health and hygiene, it is also important to prioritise mental health and wellbeing. Whether leader, manager, employee or entrepreneur we are all going through different waves within this challenging time. The complete overflow of information and misinformation that is circulating can impact this. Know when to switch off (the news is meant to be checked, not watched) and identify reliable, relevant sources of information. Stay productive, with a daily routine and structure, as well as balance, exercise and eating well. In such turbulent times, abnormal reactions become normal reactions and the promotion of tolerance, support and patience is paramount.
On the path to the other side of this pandemic, as a PKF family it is our people that remain our greatest asset.
GROW:
Alvin Toffler is credited with saying: "The illiterate of the 21st century will not be those who cannot read and write, but those who cannot learn, unlearn, and relearn." The current complex and ever-changing environment requires exactly that – in order to keep productive, be informed, and cultivate creativity and agility to stay ahead of the curve. With the myriad of information out there, the focus is on identifying the professional development needs of your team and packaging what is relevant (and reliable), to provide a form of GPS and direction in their learning, upskilling and knowledge gain.
With so much changing so fast, there is not only more learning but also a change in what we learn and how we learn.
What
Balance of technical and non-technical information and skills:
Resources to assist and support your team with new work policies and tools, in particular remote working
Skills for utilising new technologies/platforms for virtual meetings and collaborations, such as Microsoft Teams and Zoom
Cybersecurity awareness
Coronavirus statistics, health and hygiene
Mental health awareness and staff wellbeing
Soft skills, including management and leadership skills in such times of distributed workforce, uncertainty and crisis
Technical and economic facts and impacts, as well as legislation and regulations issued by government departments and regulators
Sharing by experts within your organisation on pertinent topics and subject matter
How
Extending the scope of digitalisation:
Instead of traditional face-to-face training, virtual sessions and webinars can be run using interfaces such as Microsoft Teams, Zoom, Skype – both live and recorded, and considering varied time-zones for those organisations with a global footprint
Enhanced delivery methods (videos, podcasts)
Digital learning resources (with interactive modules and simulations)
Developed content made available on collaborative platforms for remote access
Being alert and tapping into relevant resources and webcasts from specialist sources external to the organisation, and communicating these amongst colleagues and teams
In providing resources (no matter the what or the how), consider bite-sized portions for digesting effectively, encouraging a learner-driven mindset and enabling growth and development at the speed of need (anytime, anywhere).
At PKF SA, such professional development forms part of our commitment to our people, and to a quality-oriented culture in everything we do.
In the words of Maya Angelou, when you're searching for rainbows but all you see are clouds, remember "every storm runs out of rain". The current situation is not the permanent condition and the question to consider is: when the pandemic passes, what will we have learned about how we do business?
Embrace the long view and work through the storm, keep learning and growing - to emerge with a stronger crew, new technologies and capabilities, and heightened knowledge and skills that set you up to be ready and on course for the 'next normal'.
Andy Stanley said this: "When the story of COVID-19 is just a story we tell, let's make sure our stories are worth telling." The decisions you make every single day between now and the end of this crisis will determine the story you tell. You are writing it right now.
As PKF South Africa, we continue to do our best to write a great story.
We will continue to maintain operations and service our clients. We will continue to connect and share, develop and grow. We will continue to monitor this challenging situation on a day-by-day basis, to understand and respond with insight, speed and adaptability.
Stay safe. Stay connected. Keep learning.
Author:
Leanne Haslett CA(SA)
Head of Training, PKF South Africa