Currency fluctuations and your retirement savings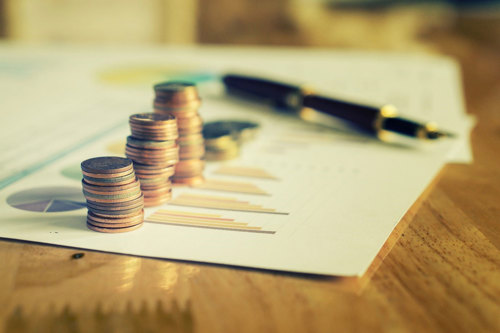 One thing that's certain when it comes to investments or savings – they will at some point be affected by currency fluctuations.
Most individual investors lack the time or expertise to make decisions on which regions, assets, and stocks to invest in. Such decisions are usually relegated to investment consultants, asset managers, and financial advisors - with little to no involvement on the part of the investor. It's good practice for investors to diversify their savings across a range of asset classes including equities, bonds, property, and cash.
A common approach to gaining exposure to currency markets is through direct investment in foreign assets (In South Africa, these are assets denominated in a currency other than the Rand.). Foreign assets rank high on the risk and return spectrum, potentially offering high returns to investors with a relatively high level of risk compared to the alternative asset classes. The chart below considers the performance of the South African Rand (Rand or ZAR) against the United States (US) Dollar (which has been used as a proxy for foreign currencies) and foreign assets (using the Morgan Stanley Capital International World Index (MSCI) as the benchmark index).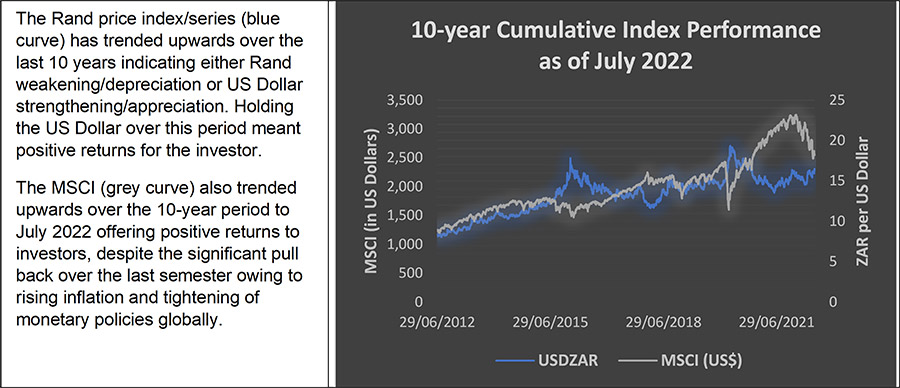 The MSCI world index is a global equity index capturing large and mid-cap representation across 23 Developed Market (DM) countries. is a global ex capturing representations across 23 large and mid-cap Development Market countries, with over 65% weighting towards the US market.

Despite the ALSI (ZAR) and MSCI (US$) offering similar returns in their respective currencies, the aggregate return, in Rand terms, from investing on the MSCI (at 15,3%) is more than double that of the ALSI (at 6,9%). This is due to the depreciation in the Rand proffering additional returns to the Dollar-based returns earned on the MSCI.
Is there an alternative to investing in foreign assets?
Yes, another route could be investing in Rand-hedge stocks (or shares). These are shares of companies that earn a substantial percentage of their revenue in non-Rand currencies, so benefitting from a weakening in the Rand. The JSE is made up of numerous companies in the mining, pharmaceutical and industrial sectors, which are dominated by offshore operations.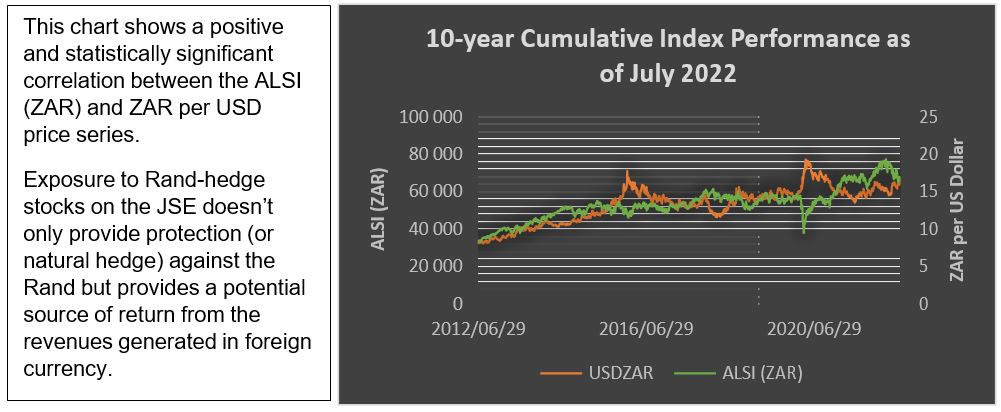 How does regulation affect my investment allocations?
The Pension Funds Act, through Regulation 28, provides limits on how much of one's retirement savings can be invested in different asset classes.
Following the February 2022 Budget speech, the South African Reserve Bank's (SARB) Financial Surveillance Department issued a circular amending the permissible allocation to investments in foreign assets. The Financial Sector Conduct Authority (FSCA) – a regulatory body responsible for the regulation of all financial institutions providing a financial service or product as defined by the Financial Sector Regulation Act – then increased foreign investment limits from 40% to 45%(Including a 10% allowance to foreign investments in Africa.).
This five-percentage point increase in the proportion of one's savings that can be invested in foreign assets is good news for investors looking to diversify further from the South African market and gain additional exposure to foreign currencies. However, foreign assets expose investors to underlying asset and currency risk and might not be the best choice for those approaching retirement.
Author:
Alister Chabi – FFA, CERA, MBA
Partner – Actuarial Services
alisterc@pkfoctagon.com
See more 2022 News items